Retreat Days
Do you have a hunger to grow deeper in your relationship with God? We will be taking time to delve deeper into one particular aspect of faith, letting the truths of scripture sink in and shape our foundations. Amidst the tranquil Mulberry House grounds we offer the guidance of experienced retreat leaders to fuel your reflections along with the support to nurture your journey with God. There will be a time of stillness during the day (and also opportunity for prayer with a team member as required).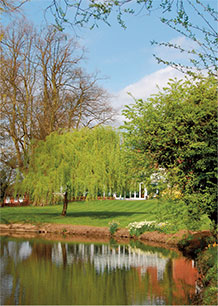 £22.50 per person including lunch
Tuesday 9th October - Ann Coleman
The Retreat Day will be led by Ann Coleman, a parish minister in Doddinghurst. She was teaching Christian spirituality at St Mellitus college and now teaches on one of the Chelmsford Spiritual Direction courses. She is an experienced retreat conductor and spiritual director.
You are God's work of art (Eph 2:10)
10.00am: Tea/coffee
10.15am: Opening prayer: You created me in my inmost being; you knit me together in my mother's womb (Psalm 139:13).
First Reflection: 'But now, O LORD, you are our Father; we are the clay, and you are our potter; we are all the work of your hand.' (Isaiah 64:8)
12.00 noon: Second Reflection 'God saw all that he had made and it was very good' (Genesis 1:31).
After lunch: Third Reflection: 'We are God's work of art'.
The day will conclude at 3.00pm.
Our next Retreat Day: Tuesday 27th November - Marion Cole