Retreat Days
Do you have a hunger to grow deeper in your relationship with God? We will be taking time to delve deeper into one particular aspect of faith, letting the truths of scripture sink in and shape our foundations. Amidst the tranquil Mulberry House grounds we offer the guidance of experienced retreat leaders to fuel your reflections along with the support to nurture your journey with God. There will be a time of stillness during the day (and also opportunity for prayer with a team member as required).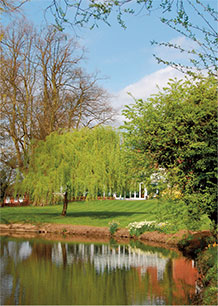 £22.50 per person including lunch
Tuesday 27th November - Dr Marion Cole
This Retreat Day will be led by Rev Dr Marion Cole, a Methodist Minister in Essex. Marion has also served in North London and Norfolk, and has been involved Ecumenically in training Methodists and Anglicans for ordained ministry. She is a Spiritual Director and mentor. Marion seeks to offer a quiet safe space for prayer, reflection and sharing so as to enable our hearts and minds to be more open to God's presence and call upon our lives.
Embracing the Christ Child
10am: Tea/coffee on arrival for a 10.15am start
Explore the stories of 4 people (Zachariah, Elizabeth, Mary and Jospeh), whom God invited to participate in Jesus' coming. Reflect upon God's invitation to us to embrace the Christ child and some of the unexpected consequences for our lives.
Lunch
Afternoon reflection
The day will conclude at 3.30pm