Pastoral Cottage
We are conscious of the busy lives you all live; and your need to come away and be nourished by your Heavenly Father. See below for details about our Pastoral Meeting Room.
Pastoral Meeting Room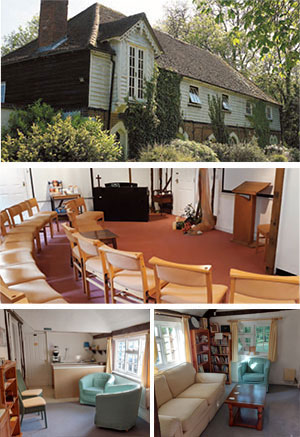 The Mulberry House Pastoral Cottage is the perfect place for meetings, leaders' retreats or church Away Days. It is an ideal place to enjoy time together free from distractions. The Pastoral Meeting Room seats up to 25 theatre style and has a piano, flipchart and computer projection. There is a small adjacent lounge and tea/coffee making area and toilet facilities. (See below for larger meeting requirements).
It also offers a seating area in the gardens for your break-times. Set within the beautiful grounds of Mulberry House, the Pastoral Cottage offers an ideal place in which you can seek the LORD together.
Available for £18.00 per person which includes room hire for the whole day, tea/coffee, biscuits and a sandwich lunch. (There is an option to have a 2 course lunch subject to availablility, instead of the sandwich lunch and that option is £25.50 per person).
For bookings please contact the Pastoral Centre on 01277 367124. Or email admin@nctuk.org There is also a small shop within the Pastoral Cottage, selling cards, books and gifts at discounted prices.
For larger conference facilities please see the Hotel website - CLICK HERE