An evening with Julia Derbyshire
With Julia Derbyshire
PREVIOUS EVENT WAS: Friday 13th March 2020
Julia leads Pastoral Care and Women's Ministry at City Gates Church in Ilford, alongside her husband Stephen who is Pastor. Julia became a Christian as a teenager and will share her testimony and also about her involvement in Women's Ministry at City Gates. She will also speak about her role as Regional Coordinator and the work of 'Aspire', a national women's ministry. Aspire's aim is to "encourage women to be all that God has called them to be and to equip them to fulfill His purposes".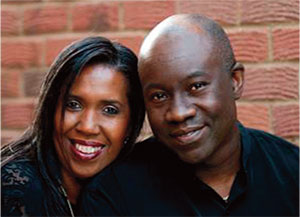 Stephen and Velveta Thompson
Also from City Gates, Stephen and Velveta will join Julia and lead a time of worship during the evening. Velveta will also share part of her journey of when she was very ill in hospital and experienced an amazing recovery and will also speak about her subsequent car accident. Stephen and Velveta set up Beracah Music Ministries International and have served in the music ministry for over 30 years including working with BBC Songs of Praise and Graham Kendrick. They have been active pastors and mentors to many professional musicians around the world. They are Directors of Creative Arts School of Excellence (casX) which offers a bridge between schools, cultural organisations and creative practitioners in the music field.