Our Lunchtime Specials offer a three course meal of a high standard with light entertainment from various gifted artists, from classical pianists through to modern jazz players.
They offer an opportunity for people of all ages and background to come and relax with friends and also enjoy the beautiful grounds here at Mulberry House.
(Although most of the artists are Christians, these are not intended as Christian events).
12.15 for 12.30pm sitting Cost: £25.00 (20% discount for senior citizens)
Wed February 20th Libbi and Hazel
Wed March 20th Coco n the Fellas
Wed April 17th Rebecca Raw
Wed May 15th Adam Moore
Wed June 19th Libbi and Hazel
Wed July 17th Adam Moore
Wed August 28th Rebecca Raw
Wed September 18th Coco n the Fellas
Wed October 16th Libbi and Hazel
Wed November 20th Adam Moore
Wed December 4th Christmas songs with Chipping Ongar Primary School
Wed December 11th Christmas songs with Ongar Primary School
Call to book - 01277 365 398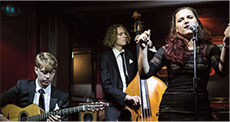 Coco 'n' the Fellas
A London based band who perform across the country and internationally. Their music evokes both swing and contemporary jazz simultaneously. Breathtaking arrangements and varied repertoire ensure a stunning performance.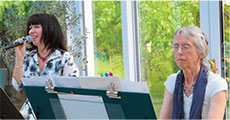 Libbi Macgregor & Hazel Newman
We welcome back singer Libbi and pianist Hazel who perform a selection of songs from Shows & Films, Light Classical Swing & Blues. The music partnership began at Mulberry House when Hazel was asked to accompany Libbi for a Ladies Day. Libbi and Hazel complement each other and bring a wealth of experience in the way they reach out to others through their music.

Rebecca Raw
Rebecca is a regular performer at Mulberry House lunchtime specials, bringing a unique blend of mellow soul, light jazz, and pop ballads. Her vocal sound is smooth and warm, likened to that of Norah Jones and Eva Cassidy. She is also a songwriter whose own contemporary songs tell stories of joy, truth and hope in the face of any circumstance. Her 2017 release of five original songs entitled 'Deep Within' is available for purchase on CD and download. Please visit her website: www.rebeccaraw.com.

Adam Moore
Adam is a creative song writer, musician and music teacher. Adam also is a solo artist, performing his own jazz-influenced arrangements of hits by artists such as George Gershwin, The Carpenters, Elton John, Frank Sinatra, Louis Armstrong, Frankie Vallie and many more. His smooth vocal tones and melodic piano arrangements are relaxing and classy, with just the right tempo to get your feet moving lightly.