Our Lunchtime Specials offer a delicious three course meal with musical entertainment from gifted musicians and singers, from classical pianists through to modern jazz players.
Gather with friends and family to enjoy lunch, whilst listening to our musicians amidst the beautiful grounds at Mulberry House. 12.30pm to 2.30pm approx. £27.00 per person.
(Although most of the artists are Christians, these are not intended as Christian events).
To book please ring Reception on 01277 365398.
OUR MUSICIANS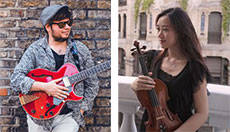 Orlando and Yanice Tsang Bonzi
Wednesday 23rd February 2022
Orlando, is an Italian-Paraguayan guitarist, composer and producer, with his special voice and unique way of playing. Brazil is the place that fuelled his musical growth. Since moving to Spain in 2014 he has recorded a collection of compositions; modern jazz and folk music from South America and Southern Europe. His wife, Yanice is a versatile contemporary violinist as well as a composer, pianist, arranger, singer and songwriter. Originally from Hong Kong where she received her classical music training since she was 4 years old. They will perform a range of songs including Sting's Roxanne, Can't help falling in Love, Let's stay together and Superstition. They will also perform some of their own-penned songs.

Rebecca Raw
Wednesday 23rd March 2022
Rebecca has been performing at a wide range of events for many years. She brings a unique blend of mellow soul, light jazz and pop ballads and her vocal sound is smooth and warm, likened to that of Norah Jones and Eva Cassidy. When she is not singing, she is playing the cello, and has worked with the likes of Jake Isaac and Orphan No More in this capacity. She is also a songwriter whose own contemporary songs tell stories of joy, truth and hope in the face of any circumstance. Rebecca has two projects as a solo recording artist; Deep Within (2017) and Feet Firmer (2021), both of which are available for purchase on CD or digital download. Please visit her website for more information and to join her mailing list: www.rebeccaraw.com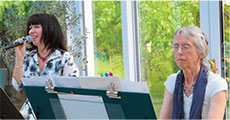 Libbi MacGregor & Hazel Newman
Wednesday 20th April 2022
Singer Libbi and pianist Hazel, complement each other and perform a selection of songs from shows & films, light classical swing and blues. They bring a wealth of experience in the way they reach out to others through their music. Their repertoire includes Lady is a Tramp, Bewitched bothered & bewildered, Bring him home/ I Dreamed a Dream from Les Miserables, What a Wonderful World.