---
We are starting to arrange dates for 2021
Our Lunchtime Specials offer a delicious three course meal with musical entertainment from gifted artists, from classical pianists through to modern jazz players. Gather with friends and family to enjoy lunch and listen to our musicians amidst the beautiful grounds at Mulberry House. 12.15 for 12.30pm sitting. Cost: £25.00. (Although most of the artists are Christians, these are not intended as Christian events).
To book please ring this temporary number 01277 367124
OR Email admin@nctuk.org
**See below for details about each artist. **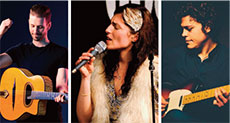 Gypsy Dynamite Wednesday 1st September 2021
Filippo and Giulio, bring sizzling guitar arrangements of traditional Gypsy swing, Italian and Spanish music. Vocalist Irene Serra, born in Milan, developed her love for singing whilst performing in choirs, musicals and churches. She was one of the semi-finalists in The Brussels International Young Jazz Singer in 2008 and was the only European finalist in the Shure Jazz Voice Competition at the Montreux Jazz Festival in 2009. Between them, they have performed in the Houses of Parliament, Tower of London, Union Chapel, Brasserie Toulouse Lautrec, Barbican Centre, Ronnie Scotts, the Hackney Empire and The 606 Jazz Club.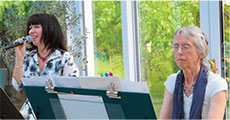 Libbi Macgregor & Hazel Newman Wednesday 11th August 2021
Singer Libbi and pianist Hazel, complement each other and perform a selection of songs from shows & films, light classical swing and blues. They bring a wealth of experience in the way they reach out to others through their music.

Rebecca Raw THURSDAY 29th July 2021
Rebecca Raw has been performing at a wide range of events for many years. She bring as unique blend of mellow soul, light jazz and pop ballads and her vocal sound is smooth and warm, likened to that of Norah Jones and Eva Cassidy. When she is not singing, she is playing the cello, and has worked with the likes of Jake Isaac and Orphan No More in this capacity. She is also songwriter whose own contemporary songs tell stories of joy, truth and hope in the face of any circumstance. Rebecca's project 'Deep Within' is available for purchase on CD or digital download and she plans to record some new music in 2020. Please visit her website for more information and to join her mailing list: www.rebeccaraw.com.

Adam Moore & Elliot Chapman Date for 2021 tbc
Adam is a creative songwriter, musician and music teacher. He also performs as a solo artist with his own jazz-influenced arrangements. Elliot is a singer songwriter who has performed all over the UK both with function bands and also as a solo artist. He has a passion for soul music. Together they cover artists including Al Green, Ray Charles, Marvin Gaye, Terence Trent D'Arby, Frank Sinatra, Louis Armstrong, Frankie Valli, The Carpenters, Prince and more.