Our Lunchtime Specials offer a delicious three course meal as well as musical entertainment from gifted musicians and singers, from classical pianists through to modern jazz players, amidst the beautiful grounds at Mulberry House.
Although most of the artists are Christians, these are not intended as Christian events.
Gather with friends and family to enjoy lunch, whilst listening to our musicians. 12.30pm to 2.30pm approx. £28.50 per person.
To book please ring Reception on 01277 365398.
OUR MUSICIANS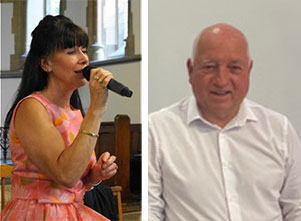 Libbi MacGregor & Gary Wilder Wednesday 9th November
Singer Libbi and Pianist Gary have embarked on an exciting new collaboration as they complement each other bringing a wealth of songs to soothe the soul or get the feet tapping. They perform light swing and blues songs with a few alternative favourites thrown in along the way. Their repertoire includes Summertime, The lady is a tramp, What a difference a day makes and Make you feel my love.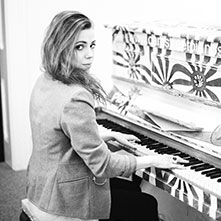 Rebecca Raw SCROLL DOWN FOR CHRISTMAS EVENT
Rebecca has been performing at a wide range of events for many years. She brings a unique blend of mellow soul, light jazz and pop ballads and her vocal sound is smooth and warm, likened to that of Norah Jones and Eva Cassidy. When she is not singing, she is playing the cello, and has worked with the likes of Jake Isaac and Orphan No More in this capacity. She is also a songwriter whose own contemporary songs tell stories of joy, truth and hope in the face of any circumstance. Rebecca has two projects as a solo recording artist; Deep Within (2017) and Feet Firmer (2021), both of which are available for purchase on CD or digital download. Please visit her website for more information and to join her mailing list: www.rebeccaraw.com 3 course lunch. 12.30pm to 2.30pm. £28.50 per person. Rebecca will also perform at our Christmas event - scroll down further for details!
Helen Yousaf PREVOIUS EVENT Wednesday 25th May
Helen will perform instrumental pieces on the cello as well as sing songs from Musicals and other well known tunes, with her rich powerful voice. Helen is a musician and artist who spends much of her time travelling across the country working with an assortment of organisations and institutions with the goal of releasing creativity and spreading hope. Helen is a resident artist and musician for various schools, army regiments, rehabs, churches and many other providers of care in the community. 12.30pm to 2.30pm. £28.50 per person.