Gospel according to St John
The Faith-Building Fourth Gospel
2020 series with Chris Hill
We are following the government guidelines and running some meetings by zoom for the time being. See zoom details below. If you don't already receive the occasional update email from us, you can email admin@nctuk.org and ask to receive them. You will also initially receive our weekly 'Word of Encouragement' email (you can unsubscribe from either at any time).
JOIN CHRIS HILL ON ZOOM on November 10th, December 8th, from 10am for about 2 hours.
Any problems with the zoom, please call 01277 367124 (Michele).
(Please prayerfully consider making a small donation, which we can pass onto our speaker. See our Home Page and click DONATE in top right corner or please ring 01277 367124).

When we reopen, spaces may be limited due to the Government guidelines on social distancing. Please contact us for more details (admin@nctuk.org)
It took nearly sixty years of meditating on the person and ministry of the Lord Jesus to enable the apostle John to write the fourth gospel account. It is a monumental work of revelation inspired by the Holy Spirit and presents our Lord as Messiah and as the true God come in the flesh.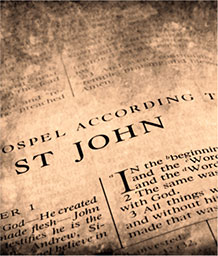 We live in challenging days and need to be thoroughly prepared to be true disciples: men and women in Christ able to face real difficulties and challenges leading up to the return of our Saviour .... He is coming soon ... and we need to be ready. In this series, Chris Hill expounds the chapters that form the climax to the Fourth Gospel. Many folks who attend never miss a seminar! Come and discover why! Chris Hill is a preacher and expository Bible teacher. This has occupied him for over fifty years and it remains his passion! Chris' experience as a Bible College principal and lecturer in London and also as a leader of over 100 tours of Israel, has furnished him with a depth of insight into the wonderful world of the Bible and the revelation of Christ in ALL the scriptures. Chris is married to Lindy and they have three married children and seven grandchildren. Chris and Lindy live in Oxfordshire.
PLEASE BRING A FACE-COVERING AND CLICK HERE TO SEE OUR COVID-19 SAFETY MEASURES
October 13th, November 10th, December 8th.
Chris speaks at Time out with God on the Monday in the same week he is here on the Tuesdays listed above.
£16.00 including refreshments and lunch Book all 12 seminars at the same time and get one free A free-will offering will be given to Chris Hill at each seminar in acknowledgement of his ministry. Advanced booking is required. 10am-3.00pm (coffee served from 10am)
To book please ring this temporary number 01277 367124
Email admin@nctuk.org
Or book online